Handset maker Maxx Mobile today announced the launch of 26 new handsets, priced between Rs 1,100 and Rs 7,777, as part of its celebration of India's 64th Republic Day.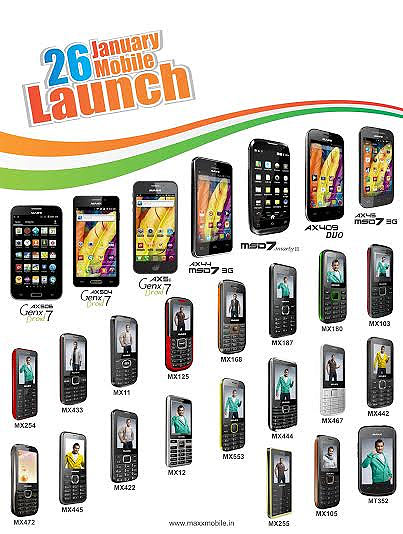 This includes 19 feature phones and seven Android phones. Maxx has made this move in order to maintain its focus on delivering maximum variety of high quality phones at very affordable prices, it said in a statement.
"We had launched 15 models on August 15, 2013 and now are launching 26 models, offering the consumer freedom to choose his handset," Maxx Mobile CMD and founder Ajjay Agarwal said.
Among the newly-launched models are seven Android phones, equipped with Andoid OS Gingerbread and Jelly Bean, 256 MB to 512 MB RAM, up to 2 MP primary camera, LED flash light and up to 1600 mHz battery. The launch also includes nineteen feature phones, in the 1.8-inch to 2.8-inch segments, equipped with dual SIM, GPRS, long lasting battery life of up to 1500 mHz, security features such as anti-theft and privacy protection and up to 8 GB worth of expandable memory.
Maxx , Mobile